Moroccan Mint, Organic Green Tea, 20 sachets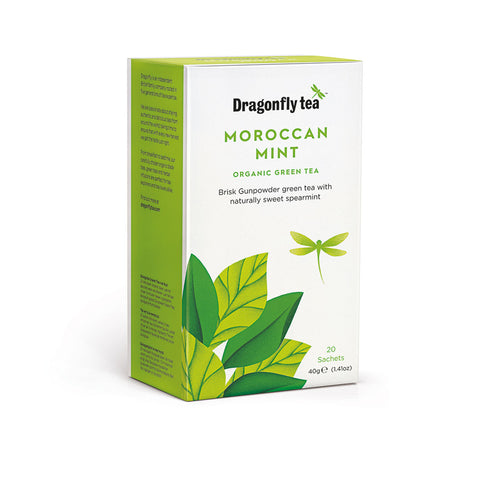 An authentic blend of aromatic spearmint leaves and superior gunpowder green tea.
This wonderfully reviving brew is inspired by Morocco's rich tea-drinking tradition. The tea-maker's craft lies in perfectly balancing the natural sweetness of the spearmint with the brisk, slightly smokey notes of the gunpowder tea. In Morocco, where it is served throughout the day, both between and during meals, every cup is said to be a refreshing surprise. The tea is typically poured into small glasses from great height, thereby adding a certain theatre to the occasion and gently aerating the honey coloured liquor. The name 'gunpowder' comes from the appearance of the grey-green tea leaves, which are traditionally rolled by hand into tiny pellets that resemble gunpowder.
This clean and refreshing tea is particularly delicious at the end of the meal.
Perfect Ingredients
Organically grown gunpowder green tea and spearmint leaves
Pure Perfection
Allow freshly boiled water to cool a little. Infuse for 1-2mins according to taste
Format
20 individually sealed string & tag sachets (40g)
More from the Dragonfly Tea range