Rooibos Vanilla Tea, 40 bags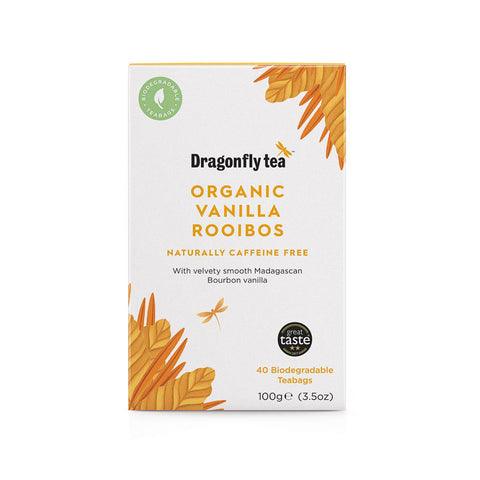 Delicious, soothing and naturally caffeine free, our Vanilla Rooibos is luxuriously infused with the finest natural Bourbon vanilla from Madagascar. Rooibos (redbush) is a full-flavoured, naturally caffeine free tea that only grows in South Africa's remote Cedarberg Mountains. Gently hydrating and low in tannin, it has long been valued for its natural goodness.
Made by hand in the fresh mountain air, when rooibos is ready to drink it gives off a deliciously sweet scent that delights the local honey bees.
Perfect Ingredients
Rooibos tea, Madagascan Bourbon Vanilla extract
Pure Perfection
Infuse in freshly boiled water for 3-4mins. Delicious with or without milk.
More from the Dragonfly Tea range