Organic Rooibos Green Tea 40 bags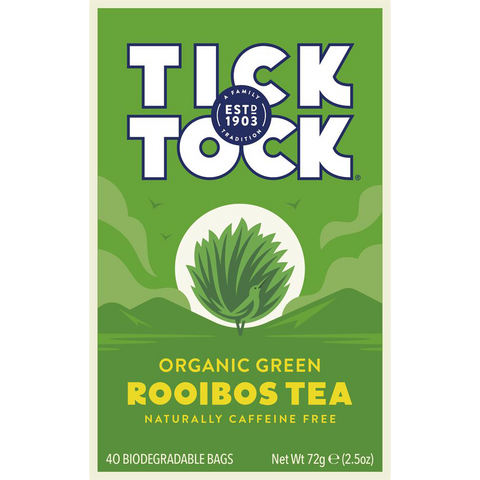 Light, delicate and packed full of natural goodness, Green Tick Tock is made only with 100% organically grown Rooibos. Although reminiscent of traditional green tea, it has absolutely no bitterness and is naturally caffeine free. It is great as a refreshing first cup, throughout the day, and even at bedtime.
Both the Organic Green Tick Tock and the Organic Red counterpart are made from pure Rooibos. The difference lies in the way the tea is treated. To give the Green Tick Tock its distinctive subtle taste and pale colour, the oxidisation process that naturally occurs after harvesting is deliberately cut short by the application of heat – an approach inspired by ancient Chinese green tea making techniques.
Ingredients
100% organically grown green Rooibos
The Perfect Cup
Add freshly boiled water that has been allowed to cool a little. Brew for 2-4 minutes, according to taste. As with all green teas, it is best enjoyed without milk.
More from the Tick Tock range